Visiting the Land of Stones
Armenia is one of the three countries that form in the Caucasus, the land between the Black Sea and the Caspian Sea. The Armenians call it "The Land of Stones", and this is a pretty accurate description. But what might not seem appealing by this name is in fact a captivating country with stunning landscapes and warm people.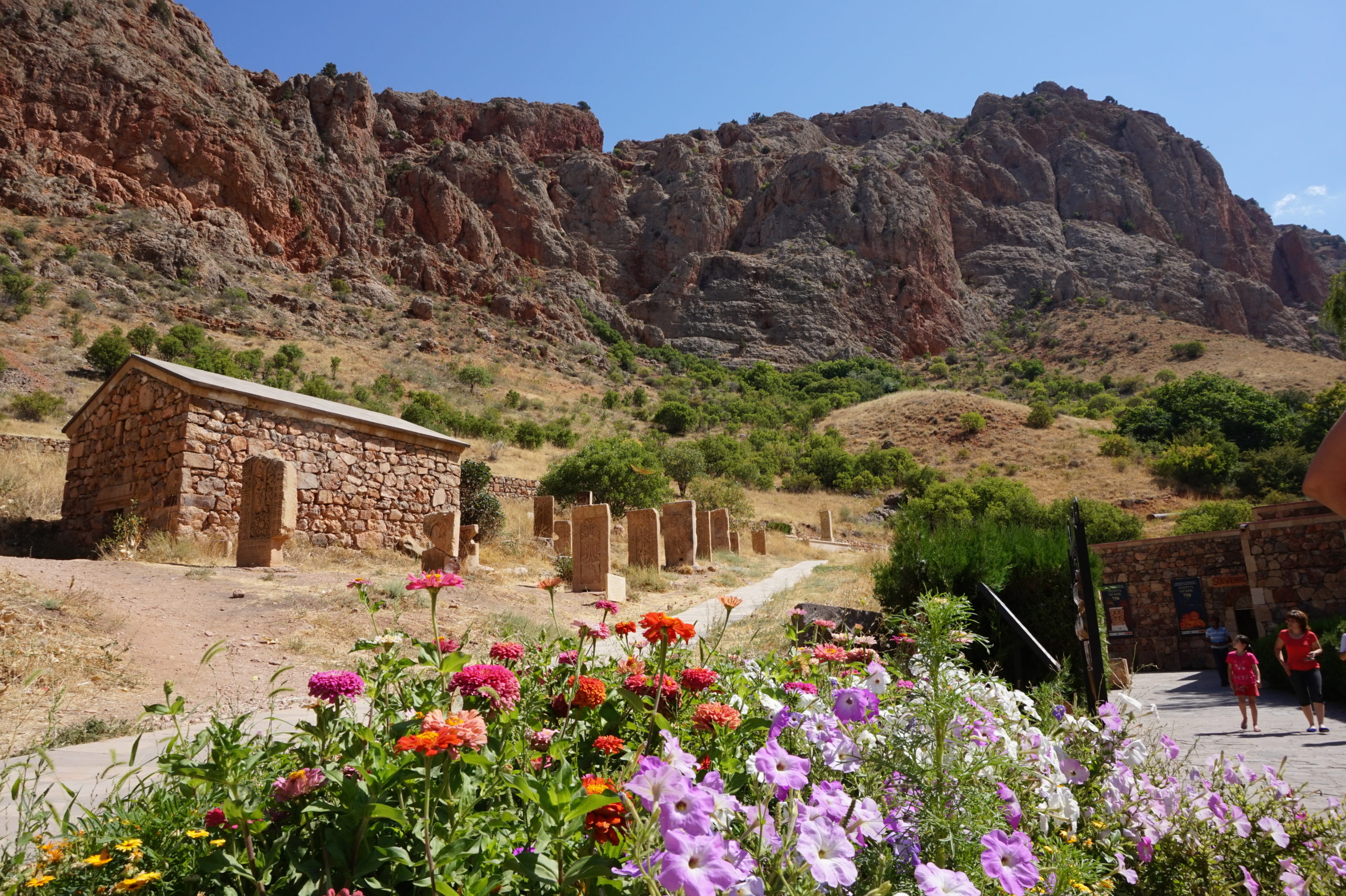 My first visit Armenia was in 2008 for business. Back then we arrived in the old airport which is not in use anymore. I remember standing at the pick up platform and seeing lots of old Ladas driving around. At three o'clock in the morning and half-asleep I wondered for a moment if we had been time traveling. 😀 The people and the country captured my heart so I came back for holidays and adventures in 2015.  
Worldwide though there are about 11 million Armenians, but only about 3 million of them live in Armenia. If you ask them why so few only live in their country, you always get the this one reply served with a crooked smile: "Armenia is just our office." 🙂
The capital Yerevan is the largest city with about 1 million people. It is the political and cultural centre of the country and definitively a must-do when you visit Armenia. You get by with English in many shops, pubs and restaurants and taxis are a cheap and reliable transport option. Not all drivers speak English, but a note with the destination written on it will do the trick. 
The city centre is dominated by the Cascades, an impressive set of stairs made of limestone that connect the square at their bottom with the Kentron neighbourhood above the city. You'll find there diverse sculptures of contemporary artists and museums as well as bars, restaurants and souvenir shops nearby. It's a great place to spend a day and discover the city. 
Armenia's largest lake lies about 65 km east of Yerevan. Google maps suggests a travel time of one hour, but honestly it takes about 90 min. But the trip on the partially dodgy roads is worth it, the views from the mountains are fantastic. If you're brave enough you can go tandem-paragliding. We booked it in Yerevan and went in the company's mini bus from there to the mountains. We weren't too sure the old vehicle would make it up the mountain in one piece, but it held together and so did the glider despite slightly difficult weather conditions. 
If that's too much adrenaline for you it's worth wile taking a boat trip on the lake and having fresh sea food at the local restaurants. 
You can't talk about Armenia and not mention their churches. Armenians take great pride in the fact that their country was the first one to adopt Christianity as state religion and that they never accepted any of the splits of the church (think Greek and Russian orthodox, catholic, protestant…). Their belief appears to me to be very pure and even pragmatic and not dogmatic at all. 
Even if that's not your main focus it's absolutely worth to visit some of these ancient churches at least because they're often located in the most stunning locations. 
This temple has been erected around 100 AD and is the only standing building in this style in the area of the former Soviet Union. Next time I'll bring more time and go for a hike there, there are lots of trails, some of them lead past the basalt cliffs in the valley behind the temple. 
This monastery has been built adjacent to and half into a rock around a holy spring – that's what I call determination! It is an impressive building not far from about an hour by car from Yerevan. Sometimes a man will sell white doves, which are to be released while asking for a wish to come true. Alternatively you can buy "Armenian Snickers" on a string, which is made of natural ingredients. So don't expect it to be too close to the original. 😉 If you have time you can wander around, following the Azat River and enjoy nature. 
Tatev monastery is located in the very south of the country, not far from the Iranian border. You can book a one or two day trip to get there with a travel group in – you guessed it – a mini bus. 🙂 It is a long trip but I think it is worth it. You'll get to ride on the "Wings Of Tatev", which is the longest non-stop cable car in the world, which they'll tell you proudly. After the 12 min ride over mountain tops you'll feel like you've officially reached the end of the world, and there it is: a monastery in the middle of nowhere. This is also a popular and challenging hiking area. 
On the way between Yerevan and Tatev you can ask your guide to make a quick stop at the Armenian Stonehenge "Karahunj". "Kara "means stone and "hunj "(pronounce "hunge") means observatory. Allegedly the one in England was made by Armenians who moved there. 
The Armenian cuisine is rich in meat, fish and bread. The traditional "lavash" bread is used like the naan bread in Indian cuisine. It is traditionally made in holes in the ground with a fire on the bottom. Nowadays it's made in what looks like stone barrels for easier access. You will also find lots of different salads and pastes like hummus on the menu. It is common to put all dishes in the middle of the table for sharing which makes it easy to try a bit of everything and find your new favorites. 🙂
I have experienced Armenia as a very interesting and welcoming country. For me as an European some things or habits seem strangely exotic, others appear to be not so different. You can feel the old culture, the influence of the Soviet Union and the spirit of the new generation who studies abroad and has an international mindset.
It's definitively worth a visit!