Welcome in the foothills of the Bernese Alps
The Brienzergrat is a ridge that frames Lake Brienz on its northern bank between the Brienzer Rothorn and the Harder Kulm just above Interlaken. On the other side of the lake  the Bernese Alps begin to mount up majestically.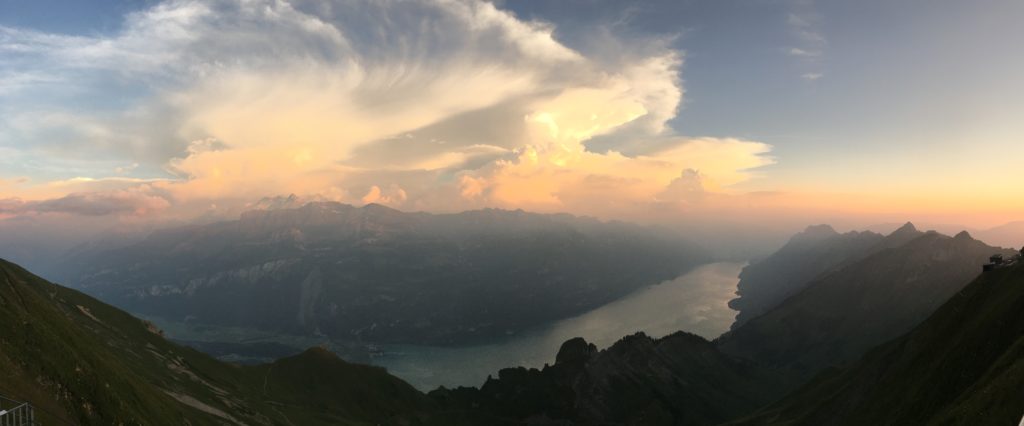 Getting up the mountain with mixed feelings
It was a nice warm summer afternoon when my friend Alex and I were cueing to get on the Rothhornbahn, a 125 year old steam locomotive that pushed (not pulled) a handful of wagons up the Brienzer Rothorn from 566 m to 2'350 m above sea level. The 7.6 km ride took us about an hour, more than enough time for me to think about our plan for the next day: we were hiking the Brienzergrat, a challenging 21 km ridge walk. Our attempt of the previous year wasn't successful, after about half of the distance I didn't have the stamina to go further. This year I was determined to succeed.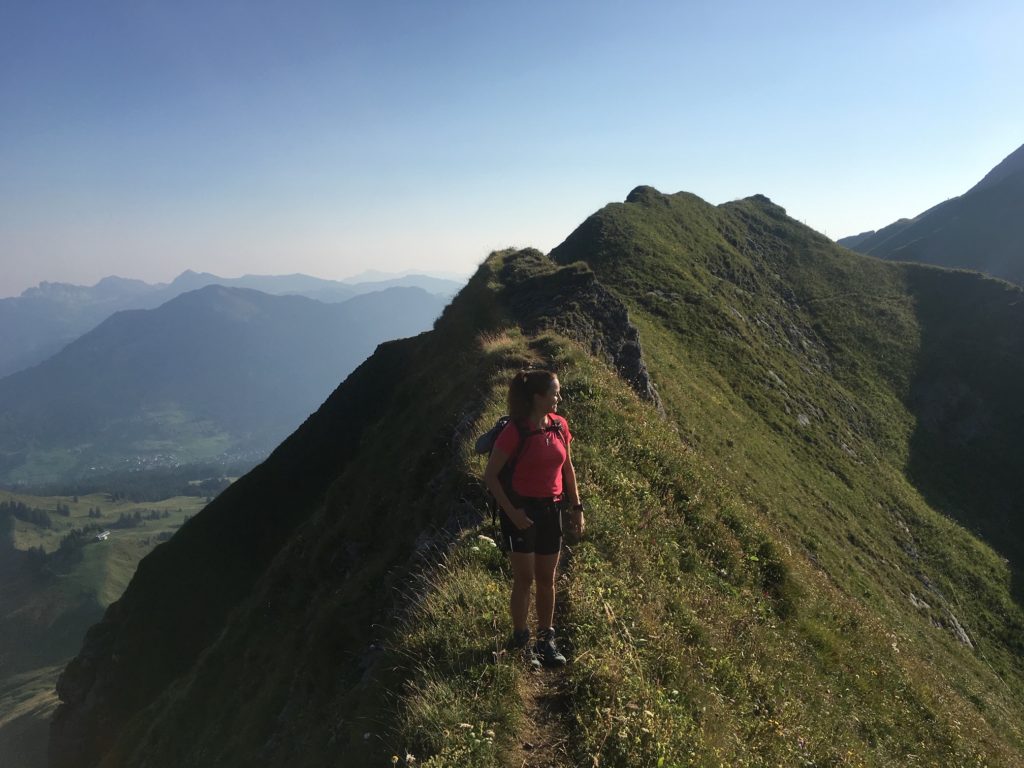 A racing heart and sparkling eyes
After we arrived at the summit, we checked into the hotel, enjoyed a nice dinner with the most beautiful views and went to bed early to be fit in the morning. I slept quite well and getting up was no problem, my nervousness might have helped me here. Backpack packed, breakfast eaten we stepped outside into the cool and wonderfully fresh mountain air. My head raced a bit and I wanted to blame the altitude, but I'm not sure that works below 3'000 m.
Walking from east to west we had about 21 km in front of us, 1'000 m incline and 2'000 m decline. That sounded not to bad but the tricky thing would be the path – or the lack there of. At least we wouldn't get lost, we just had to follow the ridge east, the magical light blue Lake Brienz to our left framed by the beginning of the Bernaise Alps, featuring big names like Aiger, Mönch and Jungfrau. 
In addition to the stunning views there was another plus to this walk: instead of climbing one merciless incline, we got to experience lots of summit moments, followed by downhill stretches that gave our lungs a break but challenged our knees. I do need to mention here that the path was not a registered hiking trail and that in the first part (starting from Rothorn) rewired quite a bit of free climbing and scrambling. (So don't try this at home if you're not prepared.)
The most famous crux of this tour is the Tannhorn summit. You had to climb on the side of the mountain holding onto a steel rope fixed into the rock. So far so good, I felt ok with the mountain in front of me. But then I had to climb on top of the tiny ridge in order to go ahead. This was one of the scariest things I've ever done. Did I mention that the rock dropped off st that point nearly vertically for about 1'000 m? But we both made it and this success pushed us to move on.
It was a scorching hot day in summer (you want as much daylight as possible, so May-July is perfect) and we finally ran out of water. I had drunk about 4 liters and lost it all through sweating. Since there was no spring or other supply, Alex walked over to a farmer who was nice enough to give us some.
When we arrived at the Augstmatthorn I knew there were "only" about 3 h left. Two hours of mostly pleasant walking (after the decent from the Suggiture, which was steep with higher steps) and one last hour of steep downhill trail that made sure you'd feel every single joint and muscle in your body.
A few more steps and then we saw the pointy roof of the restaurant at Harder Kulm (1'322 m). After a quick wash up we found a table on the terrace and sat down gratefully and with a deep sigh. As always the first beer after a day like this was the best ever. A quick check with my watch told us that it had taken us 11 hours in total. Wow, no wonder we were tired. Still, while we had a snack we were planning our next adventure already. I think that's what they called crazy… erm… passionate.
Finally we took the railway Harderbahn down to Interlaken.
This ridgewalk is amazing but not to be underestimated. To be safe go with a friend and wear proper shoes. Walking sticks may help you later in the day with the decent when your legs get tired. Choose a day when it has been dry for days and when you have lots of daylight.
But then – ENJOY! 🙂