Welcome to the heart of Switzerland
Arriving at the TCS* Camping Buochs was an entirely different experience than the one we had a few days earlier. We got greeted friendly by highly motivated people, who happily informed us about everything we needed to know, for example that a bakery sells fresh bread every morning at the entrance and that the Seebad (lido resort) entry is free for guests of the campsite. The facilities were apparently nearly new and well maintained. The price per night thus was higher but appropriate as we found: we paid 116 CHF for two nights. 
Our spot was located next to what looked like a wall of metal but turned out to be just a 15 t camper van, the mobile home of a retired truck driver and his wife. At first, we weren't too happy about this, but then we noticed that they provided some well-appreciated shade for us. Plus I could take a cool reflection picture of us in their humongous wheels. 🙂
*TCS is short for Touring Club Suisse, the biggest mobility club in Switzerland.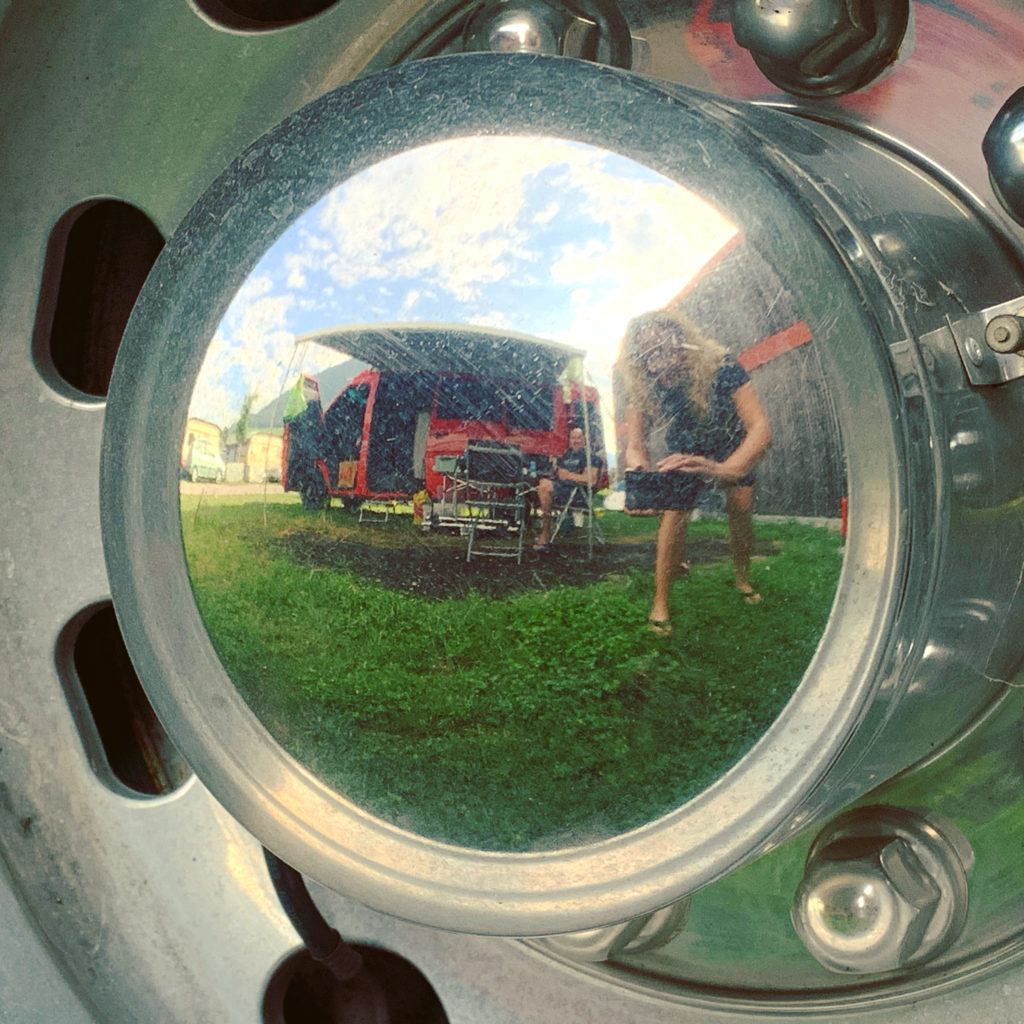 Just three minutes walking from the entrance of the campsite was the kayak rental Kanuwelt Buochs, where we booked two single kayaks for 3 hours for 30 CHF each. That's half of the hourly price we paid at Lake Walen plus the service was outstanding. After our not-so-great experience with the sit-on-top versions, we were a bit sceptical. However, the young lady showed us patiently the different versions available until we were sure what we wanted and pre-booked for the next day. Much appreciated!
This kayaking experience was much better than the previous one due to better equipment and service. They showed us the different kinds of canoes they had and let us sit in them as well to make sure we were happy with our choice.  Again we were super happy wearing our water shoes. I highly recommend buying some kind of them for Switzerland's lakes, as the shores consist often of pebbles rather than sand.  
We happily paddled along the shore until we got tired and then turned around to have a break and a snack at "Romy's Seebeizli" (Romy's little lake pub). The food was simple, but tasty. The service prompt, friendly and just the right amount of cheeky, which made us smile. And the view… *sigh* We sat right at the waterfront under the sunshades and overlooked the lake and the mountains behind it. 50 shades of blue 😉
That night the promised thunderstorm finally came, but we felt quite protected on our spot between a building and our giant neighbour.
After only two nights we were sad to leave already, but we had to get to our next and last stop that week at Le Landeron. We will definitively be back at this campsite in Buochs.