Yes, someone got really creative here with the names, agree. 🙂 
We had never been to the eastern part of Switzerland (die Ostschweiz), so we thought it was about time to do that. Plus, Liechtenstein is just a stone throw away and technically a separate country, so we could tick off another one of our bucket list. Yes, I know, not really exotic, but in hard times you have to get what you can. 
We stayed at the See-Camping, which lies at the east end of the lake, the sleepy town Walenstadt was just a 5 min bike ride away. The family-owned campsite seemed okay to us, just a bit aged. On the upside, we paid only 117 CHF for three nights (minimum stay in high season for reservations) for two adults with one camper van.

After getting settled, we took our bikes and went out to discover the area. The impressive mountain massive called the Churfürsten towering over the lake was definitively an eye-catcher. Our little ride lead us through the town, which was surprisingly tranquil on a Saturday evening, even for a town with only about 6'000 inhabitants. With not much to see or do we returned to the lake for dinner at the Hotel/Restaurant Seehof. From the terrace, we could overlook the lake and enjoyed the colours turning from bright blue over all possible shades of orange and pink until it got dark.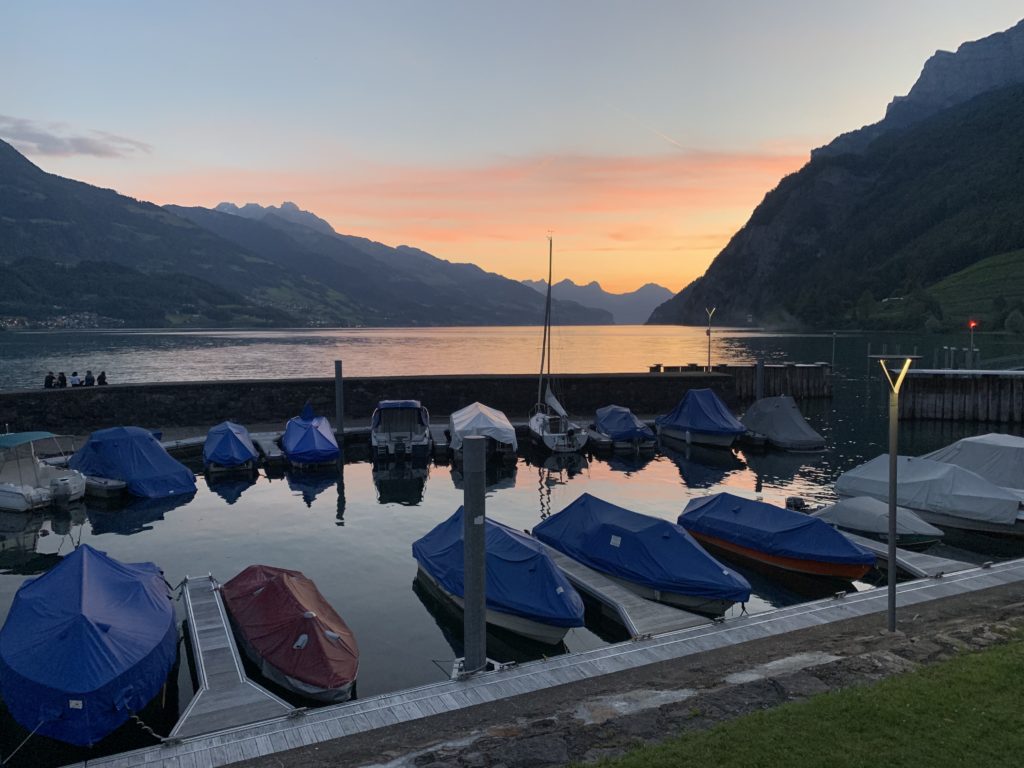 Day trip to Liechtenstein
As mentioned before, I was determined to tick off another country of my list this year. With travel being limited we decided to be opportunistic, so country # 28 was to be the Principality of Liechtenstein – 6th smallest state of the world, 40'000 inhabitants.
We didn't want to pack everything to be able to leave, which is probably the most significant disadvantage of a camper van. Instead, we went by bike to the train station (5 min) and used public transport. It's a short train and a bit longer bus ride so that the 20 km allover distance took quite some time.
We hadn't really noticed when the bus crossed the border until we caught the black coloured number plates on the cars and assumed: oh, we're here! The city centre of Vaduz seemed surprisingly small. Maybe I should have looked up earlier that there live less than 6000 people, that would have explained a lot. 🙂 Even coming from Switzerland, it appeared to be exceptionally tidy and clean and – to be honest – a bit boring. Even people watching while having some food on the terrace of an Italian restaurant was only mildly entertaining but at least very relaxing.
Despite the heat and the warning sign, that the castle was closed, we decided to hike up the pretty steep hill to at least catch a glimpse of the princely building. And that is precisely what we got: a look from the outside. Even the gardens were closed. Well then, we took some pictures and went back down again and returned to our home on wheels.
Kayaking in stunning setting
Lake Walen being one of the larger lakes in Switzerland, fed from three rivers and on average about 100 m deep was quite chilly with 18 degrees that day. Nevertheless, we decided to rent some kayaks from the Intersport shop  in Unterterzen, just a 15 min bike ride away. 
The service was okay and the price a bit on the high side with 40 CHF for 2 hours per person. The kayaks were sit-on-top versions with basically no support for the back, not everyone's cup of tea. We did enjoy paddling around though for a while until wind came out and the water got too choppy. So we called it a day and had a bite at the little bistro nearby before we went back to the campsite. Here we enjoyed our last evening, before we took off the next day to our next destination: Buochs at Lake Lucerne.