This trip started with my brother and me discussing where we could meet for a weekend. He lives in northern Germany, I live in Switzerland. The prerequisites were: it must be reachable reasonably for both of us, and it should be a country we've never visited before. After spending quite some time on the phone searching the web for flight connections, our choice fell on Dublin. Ireland being a part of the EU, made a choice even more straightforward as this was the first trip since the pandemic. We didn't know much about what to expect other than friendly people and a well-established pub scene, but that was enough motivation to book the trip. 
Ireland is Irish, not British
Ireland gained its independence from the United Kingdom in 1919 after a rather turbulent past. As a result, Dublin resembles UK cities in appearance, they, of course, drive on the left side of the road, and they have UK plugs (be smarter than we were, bring an adapter 🙄😂). However, it being a part of the EU, you pay in Euros.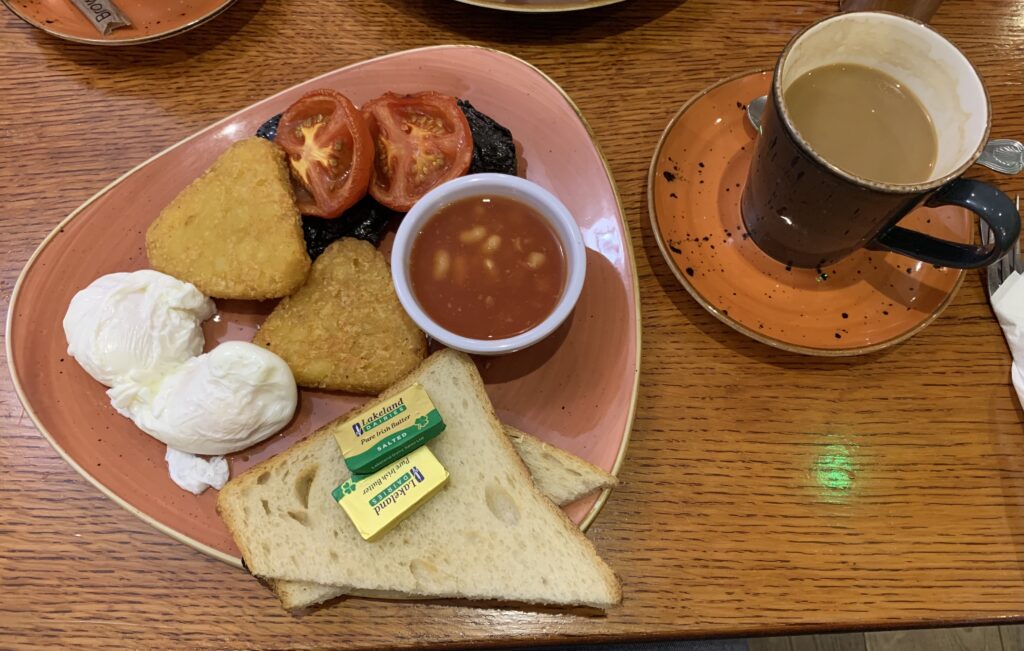 Everything is explicitly not British or English, like e. g. Irish Breakfast Tea and Full Irish Breakfast. Shops are open every day of the week (like in the UK), but selling alcohol is limited to certain times. 
All announcements over the loudspeaker and on displays are made in Irish (Gaelic) and English.
Confusing? 🤪 Yes, maybe a little, to be honest. 😄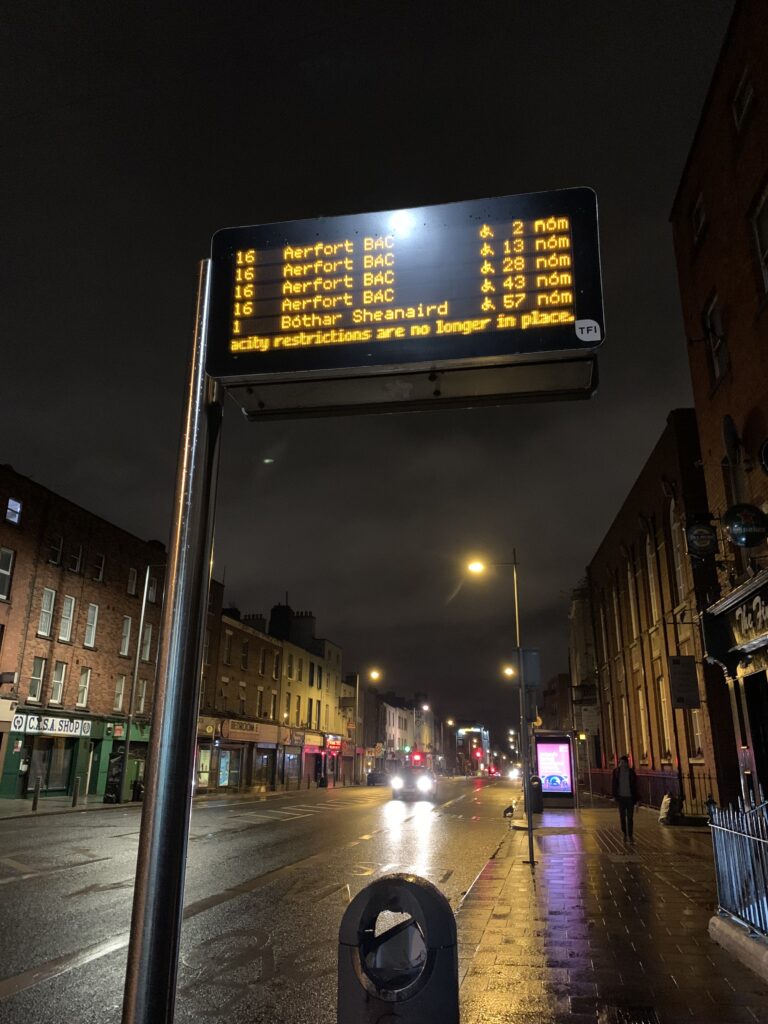 Getting to the city centre from the airport on that Friday evening was easy as several bus lines serve this route. We took the Aircoach bus line 700 (private company), which brought us to our hotel in the northern part of Dublin in about 20 minutes for 8.- EUR each. You can also buy a Leap Card for easy use of public busses, trains and trams to get around, depending on where you want to go or where your hotel is located. We stayed in the northern part of the city about 10 min of walking from the River Liffey on O'Connell Street, which turned out to be a good choice. It was quiet at night but not scary to walk home to at night. As a result, we walked everywhere and didn't use public transport to get around these two days. 
After what felt like a long day of travelling and a quick and welcoming check-in at the 24-hour reception in our hotel, we went out on the hunt for food. Dublin being Dublin, we didn't need to walk far to find a nice-looking pub with some decent and filling pub food. At Branningan's, we refilled our energy, and I enjoyed my cider from the tap with ice. 
Only afterwards, of course, we learned that if you drink apple cider with ice, you order a bottle, and if you drink it without ice, you order from the tap. The friendly waiter couldn't really explain why. Still, I would hear that repeatedly during the weekend, so it seems to be some unwritten rule. 
After walking off our sumptuous meal, we nipped into a shop looking to buy something for a nightcap in the hotel. To our surprise, we learned that no shop would sell us alcohol after 10 pm. So, instead, we sought out another pub and found Madigan's very close to our hotel. The shots of whiskey were rather expensive with 10.- EUR each. Instead, buying a gin & tonic offered a lot more value for money, as they were very generous with the gin. 
When in Rome, do as the Romans do, they say. So, in a city with 666 pubs in the city centre (according to Wikipedia), a pub crawl was called for. That was our plan for Saturday. We stopped here and there until we entered The Norsemen in the Temple Bar area just south of the River Liffey. We talked to people from France, the Netherlands and the US and had a great time. There was live music, and the atmosphere was relaxed and happy. The Temple Bar area is full of pubs like this. I'm not sure it makes a great deal of difference in which you end up; they all seemed to be good fun. The downside is maybe that it's a touristy area, don't expect to mingle with the locals here. Suppose you're hungry anytime during or after your pub crawl. In that case, I can recommend the Italian Restaurant Milano just across from the Norsemen. We enjoyed the delicious pizza and the friendly service. 
The Trinity College Library
My absolute must-see in Dublin was The Long Room in Trinity College, so that was our plan for Sunday. It's important to know that there are no walk-ins, meaning you have to buy the ticket online for a specific access time before you go. This way, they limit the number of visitors at any given time, which definitively adds to the experience (there's nothing worse than overcrowded spaces, especially nowadays). The entry of 18 EUR is not cheap, but I see it as a donation to preserve the place. It gives you access to learn about the Book of Kells, which contains Christian gospels and the library in the long room. You can download an audio guide on your smartphone, so remember to bring your headphones if you're interested in this part of history. The library is as stunning in real life as the pictures promised, about 12m wide and nearly 65m long plus the glorious smell of 200'000 old books! Nerd heaven. 🤓🤩 The first, lower level of the room, was built between 1712 and 1732. In the 1850s, the library ran out of space a hundred years later. The second level was added to accommodate the vast number of books collected. 
Dublin's castle disappointed us with its brightly coloured walls on the outside and unspectacular courtyard, so we didn't explore it further.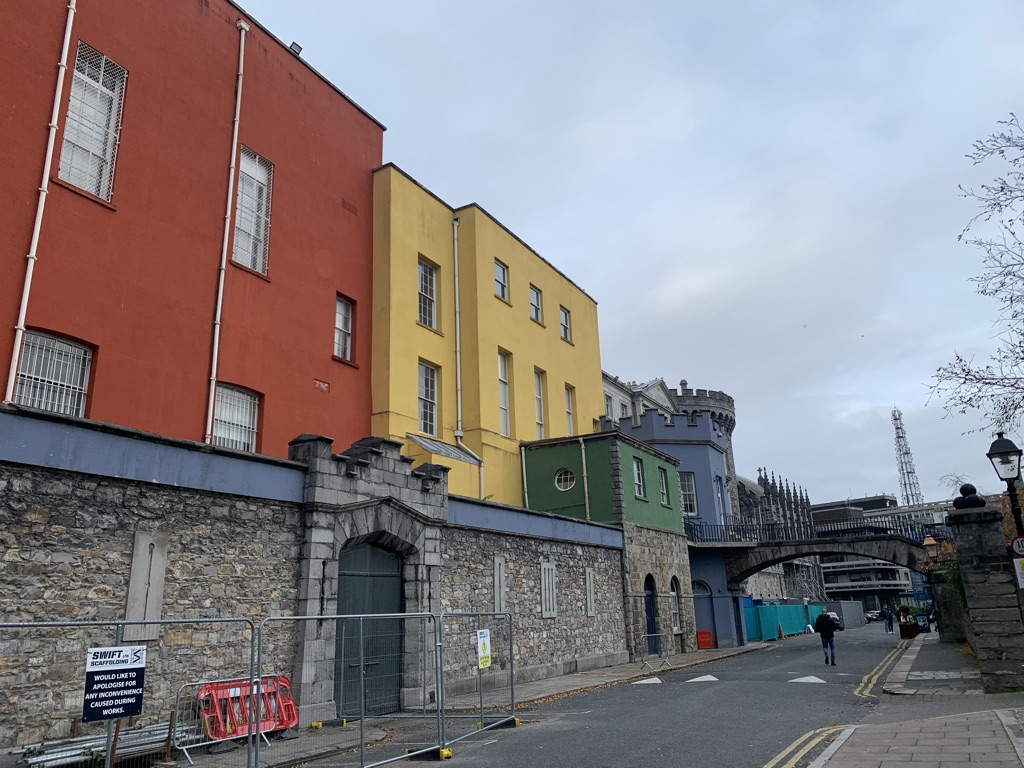 Due to the limited time we had, we didn't manage to visit the Viking Museum, the Guinness brewery or the Jameson distillery, which are recommended highlights of Dublin apart from many museums. Maybe next time.
Next time? Yes, I wouldn't mind stopping by again, but then with more time on my hands to explore the rest of the green island, exploring the countryside and its smaller towns. 
A quick comment about safety: Some Irish people living in Switzerland said that Dublin is not as nice as it was and one needs to be careful there. Walking around, we noticed that some side streets felt a bit dodgy at night, so we turned around and stayed on the main roads where we felt fine. My suggestion is: as in any city, use your common sense to keep out of trouble and enjoy your stay. 😊