Interlaken is famous for its location between two lakes. It offers views of the famous three Eiger, Mönch and Jungfrau, and the 007 movie location Schilthorn is just a stone-throw away. You can get up to the Jungfraujoch by mountain rail and spend a little fortune doing so. However, despite being marketed as the "Top of Europe," it's not the highest point. Even if you choose to exclude the rock mass in the Caucasus, Mont Blanc is the highest mountain of the alps with an impressive 4804m, overreaching the three Eiger (3970m), Mönch (4107m) and Jungfrau (4158m) by several hundred meters. 🤓
Nevertheless, they're a stunning sight – especially when the sunset covers them in golden light. 🤩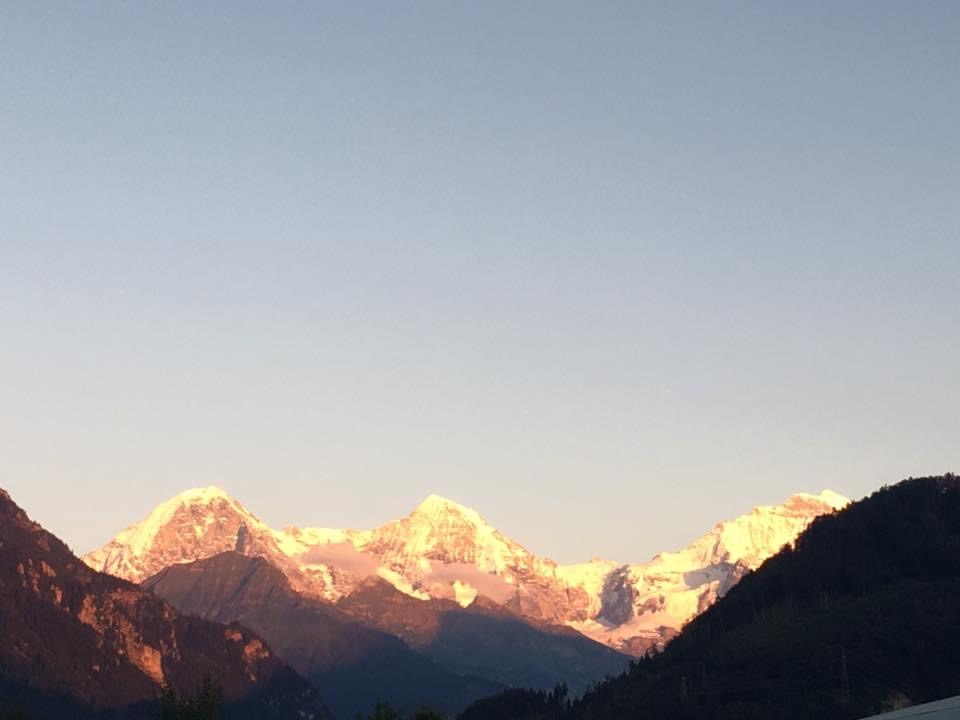 If you want to enjoy the view of the mountains without spending a lot of money (check prices for Jungfrau here), consider the Harder Kulm. You can either take the quick and reasonably priced Harderbahn starting near Interlaken East railway station or hike it – but please only with proper hiking shoes and in dry conditions. In fact, if it rained the last few days, don't do it. The trail is steep – you gain about 700m over the 4.5km. It is a gnarly path with roots and rocks in clayey soil, all of which gets incredibly slippery when wet, no matter if you try to hike it up or down.
But if the trail is dry, it is a beautiful hike and one of my favourites, as you can read here. At the top, there's a restaurant and a self-service area so everyone can recharge their batteries and enjoy the views, especially on a sunny, cloudless day! Oh, how magnificent when you stand at the end of the platform! Take a moment and enjoy the views: both lakes in stunning shades of blue and the snow-capped alps in front of you. It is breathtaking… not last because the platform sits only on a few poles and hovers in mid-air. Not for the faint-hearted.
This is a busy place in the summer season, but if you come off-season, you might be up there all by yourself. If you don't want to hike up and down, make sure you check the timetable first. There's a popular circular trail on top of Harder Kulm as well.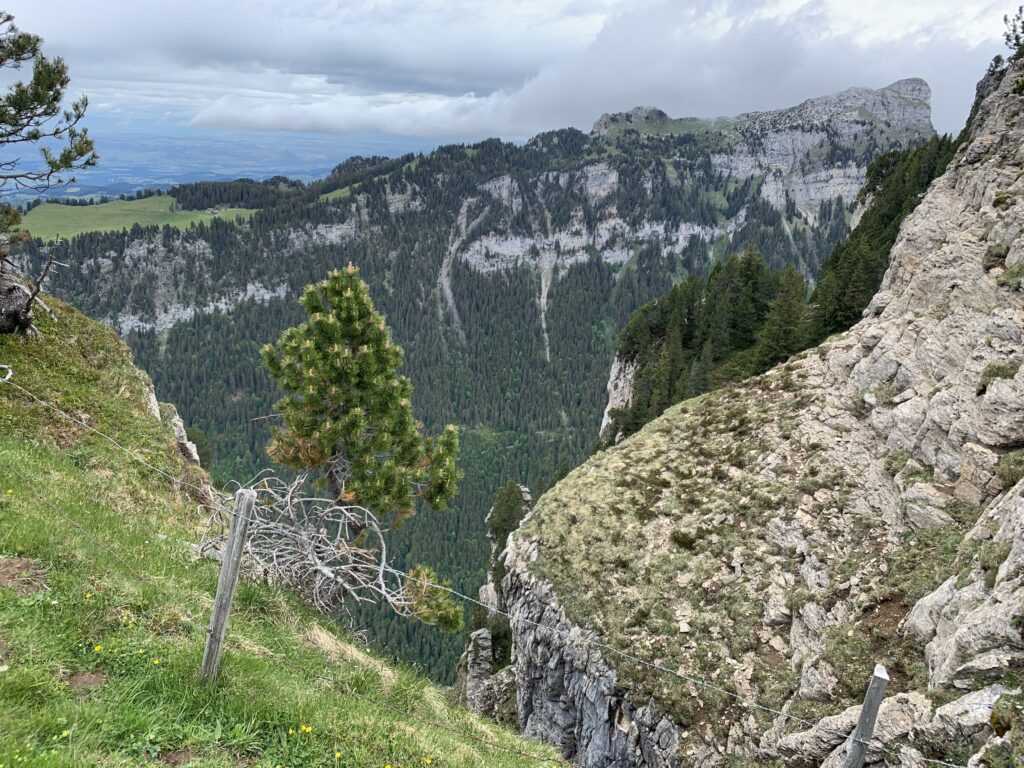 A bit further east lies the Niederhorn, which is accessible from the Beatenbucht by mountain rail. Several options exist for more or less trained hikers, and this map provides an excellent visual aid. Unless trees or fog prevent it, you have stunning views over Lake Thun towards the snow-capped mountains. If you're brave enough, you can do a tandem paragliding flight from the top. Just remember to book it in advance and be ready to pay 150 CHF or more per flight. Several companies offer paragliding, simply find one you like via your favourite search engine.
The Niesen offers another scenic view of 360°. This pyramid-shaped mountain overtowers lake Thun, sitting in the middle between Interlaken and Thun. Hiking up there is possible, but like the Harder Kulm, its trail is challenging – and a lot longer, as you'll have to cover 1600m of altitude. Fortunately, the Niesenbahn is efficient and affordable. It also has a stop in the middle of the mountain, allowing you to hike just one-half if you want to. The restaurant at the top offers good food and plenty of seats inside and outside.